Volunteering
Custom content
Volunteer with Bushbells!
We are delighted to offer volunteering opportunities to anyone looking to get involved with Bluebells and our work in Watamu.
Over the years our volunteers have brought huge amounts of energy, joy and new initiatives to our school and community. You need to be a self-starter with initiative, independence, and kindness. An open-mind and willingness to experience the realities of rural life on the Kenyan coast are also important! Fill out a form to register your interest, and we shall be in touch.
Custom content
Bluebells Primary school has 150 children and 8 members of staff, and it is all overseen and run by our principal, Mwana, who is always ready to welcome you into this special little community. Imagine a school with scant resources, but one which boasts its own bore hole and vegetable patch, and you'll get a good idea. It's a happy place with happy people, despite many coming from very impoverished backgrounds.
The nature of volunteering means you can choose your level of commitment. At school, volunteers would be expected to teach lessons, provide students with one-to-one assistance, help plan sports, games, arts and crafts activities and fieldtrips, as well as assist with day-to-day tasks that are integral to daily school life.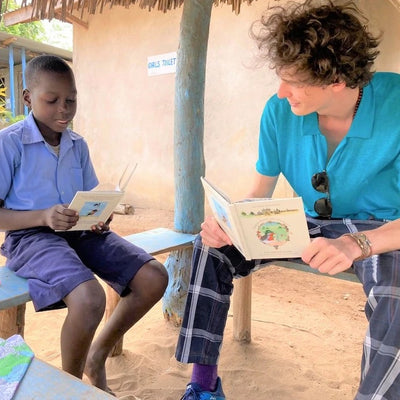 Volunteers are encouraged to use their initiatives and input creatively to extra-curricular activities such as sports, debates, music and reading. We have also started our new Climate Club, so if you're green-fingered, or passionate about the environment, we would love to hear from you. We want to harness your unique talents and skills so do not be put off if you are unsure where your strengths lie. We are sure you can add value to Bluebells.
Outside of working at the school, volunteers will have the chance to visit Sammy and his team and witness the cyclical nature of our production line. Volunteers will also have a chance to take advantage of all that Watamu has to offer with kitesurfing, stand-up paddle boarding, dolphin-watching, visiting the local snake park and turtle rehabilitation centre to name but a few. In addition, we are happy to arrange and advise on local safari opportunities in nearby Tsavo East.
Custom content
Volunteers are expected to commit for a minimum of at least 3 weeks, and preferably 4. We are able to help organise accommodation and are on hand to answer any questions you may have about your visit to Watamu. We allow a maximum of 4 volunteers at any one time, and are flexible regarding dates. If you're interested, please register your interest through this form, where you can tell us more about yourself and why you want to volunteer with Bushbells, and we will be in touch! We look forward to hearing from you.
Custom content
Hear from our past Volunteers
"They have had the most enriching, wonderful time. Loved all the photos of them in the classroom with the children teaching them numbers in Swahili! Heartwarming. You have given them the most amazing opportunity and they have been very fortunate to have been so well supported, thank you so very much."
- Contented Mother, September 2022
"I learnt so much from the children and hope that I inspired them as much as they have me! Their English was much better than I anticipated, and I enjoyed tackling bigger topics such as climate change which I hope has some impact. I felt I made some real friends and all the staff were so welcoming. The whole way through I had a smile on my face and it brought me so much joy. I already want to go back!"
- GRACE, August 2022
"I have so many amazing memories from volunteering at Bluebells - from beach days with the children, to singing, music and art. Also preparing songs for their 'graduation' was a real highlight. Above all though, it was the friendships we built, learning about the lives of the children and the fun we had playing games out of lessons. Lasting memories, and so hard to leave."
- LOLA, March 2022
"Such an amazing, wonderful place with such intelligent children, who are all so keen to learn. I never expected so many smiley faces to be so happy everyday with the little they have - it was really eye opening to see that it's not what you have, it's how you see things. These children were all so thrilled just be able to attend school, that they didn't worry about anything else they did or didn't own. An amazing experience!"
- ELOISE, February 2022
"I loved every second! I didn't expect Mwana and everyone at the school to be so welcoming and generous. This went from their gratitude for our help - all the way to the most delicious meals that were made for us every day."
- HANNAH, 2021
"Volunteering with Bushbells far exceeded my expectations, the entirely improvised days make it both challenging and rewarding. I have never had such freedom to act and influence, especially not within such a beautiful setting!"
- FREDDIE, 2021
"Volunteering at Bushbells gave me a real insight into how the school worked. I loved playing with the children and getting to know Mwana and the lovely teachers, I truly felt like a valued member of the Bluebells team. Mwana also took us to see where some of the sponsored children lives, which was very eye-opening, and made me realise how lucky we all are"
- JEMIMA, 2021
"There were so many highlights to my trip. Seeing the children use the table and benches I had built was really great."
- JAKE, 2021